Imperial Jade Necklaces Top Estate Auction At The Cobbs
Antiques and The Arts Weekly — August 2, 2013
Review by Frances McQueeney-Jones Mascolo Photos Courtesy The Cobbs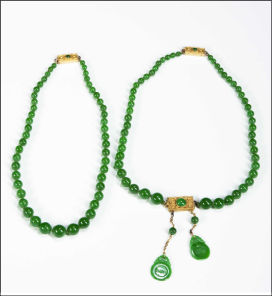 PETERBOROUGH, N.H. — Hot stuff sparkled at The Cobbs on July 6, where fine material, mostly from area collections and estates, held sway.
The runaway favorite of the day was a Twentieth Century lot of two 12-inch imperial jade necklaces in a brilliant green with matching gold color clasps inset with jade beads, one of which had a second gold clasp with jade drops that sold for $132,000. Speaking after the sale, auctioneer Charlie Cobb said mildly, "We are not known for our jewelry, but these did really well!" They were estimated at $1/1,500. The necklaces came from a Baltimore area estate and went to the New York trade.
A Tiffany & Co, diamond and platinum ring marked "PT950" with a 4.01-carat marquise diamond sold for $58,800. The lot, which came from a New Hampshire estate, was accompanied by the original Tiffany diamond certificate, a customer service report and the original ring box. A good ring needs a bracelet and Cobb supplied that: a Tiffany & Co. diamond bracelet with 43 diamonds in a platinum setting that realized $54,000.
Cartier also held its own. An emerald and diamond ring with two emerald-cut diamonds and an approximately 3-carat emerald was marked Cartier and sold for $42,000. A Carter platinum ring with a central 2-carat diamond with seven emerald-cut diamonds on each side realized $18,000.
A yellow gold ring with a 3.5–4-carat square stone and raised shamrocks along the setting was marked FWL, perhaps for Frank Wilder Lawrence of New York and New Jersey. It realized $48,000. An early Twentieth Century platinum lavaliere with diamonds and two 3-carat emerald drops sold for $30,000.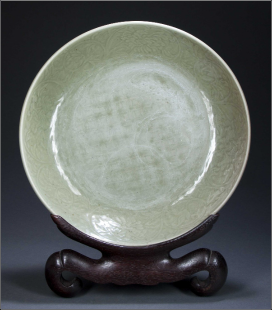 The first 60 lots of the sale came mostly from a New York collection and brought impressive results. The highlight was a 20-inch Chinese Longquan celadon charger made sometime before 1700, with an interior molded floral and foliate decoration to the sides and basketweave on the bottom. It brought $22,800 from the Chinese trade. A Chinese blue silk brocade robe decorated with a dragon and crane design and horseshoe cuffs went for $3,480.
Other Asian lots of interest included an Eighteenth Century Tibetan thangka executed in what appears to be mineral pigments with a central Buddha Gautama in finely gold patterned robes that sold for $4,800. Another example, a similar Eighteenth Century work, had some scuffing and sold for $2,400.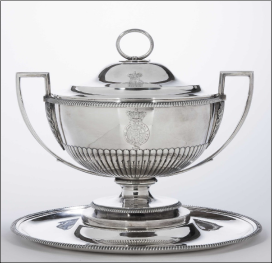 The unusual Eighteenth or Nineteenth Century Chinese Export oval platter decorated with a woman en déshabillé with her maid brought $1,680. English silver brought sterling results. The most sterling of all was a tureen by London maker Paul Storr with a round gadrooned bowl and stepped lid and a round tray, all with Storr hallmarks, the engraved insignia of the Order of the Garter and the engraving "Honi Soit Qui Mal y Pense," the motto of the order. From a Southern estate, the tureen sold for $30,000. A Paul Storr tray with a crest with a thistle, also surrounded by the garter, and with the Order of the Garter motto, from the same Southern collection, sold for $7,800. A Paul Storr covered serving bowl with the same hallmarks and the Order of the Garter engraving came from the same Southern estate collection and brought $5,400. The Storr lots are headed back to England.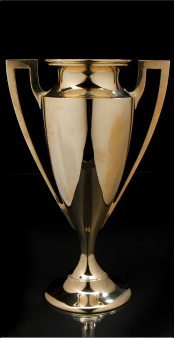 From the same estate, a 10-inch gold urn in a slight Art Deco style with handles on each sold for $9,000. It came from the same Southern estate and went to a New England collector.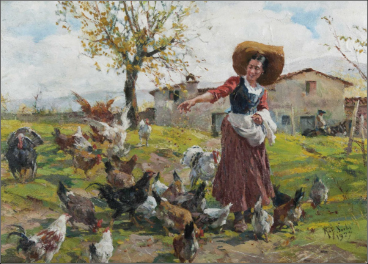 The star of the paintings for sale was a 1927 Italian oil on canvas scene of a young woman feeding chickens and two turkeys, with a man riding a donkey in the background, by Florentine artist Raffaello Sorbi that sold for $14,400. The painting retained a label for the National Association of Artists, Florence.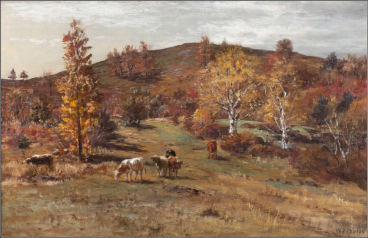 Of the American paintings for sale, three oil on canvas pictures by William Preston Phelps, known for his work in the Granite State's Monadnock Mountain region, came from a single Concord, N.H., collection and attracted interest. "Autumn Landscape" with cows on a hillside sold for $4,800. Phelps' early dawn marshy landscape sold for $3,120, and his view of grazing horses and two others with riders aboard sold for $3,000.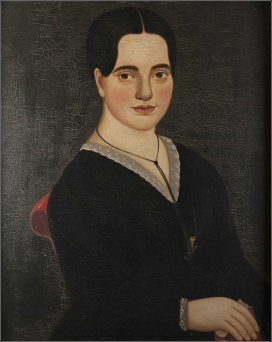 A portrait attributed to William Matthew Prior of Malvina Harriman of Dover, N.H., brought $3,600. The framed painting was recorded in 1989 by the National Portrait Gallery of the Smithsonian Institution. From the estate of Ann Stewart of Francestown, N.H., it had descended in her family and was accompanied by a full family history and line of descent.
Other New England paintings included an oil on canvas by Edmund Darch Lewis of a sloop under sail with a dinghy on a lake at sunset with what appear to be the White Mountains in the distance, which sold for $3,000. The painting, which was signed and dated 1886, descended in a Peterborough family. A nocturnal seascape by William Trost Richards went for $2,280.
Martha Farham Cahoon's oil on Masonite farm scene with horses and figures was signed and dated 1973, retained the original gold and green painted and gessoed frame and realized $1,920.
The oil on canvas country landscape with a farmhouse of a hill, with mountains in the distance, a stream with ducks and a farmer in a cart drawn by two oxen by George Henry Smillie sold for $2,280. A landscape with houses that appears to be a Cape Ann view by Red Cottage artist Charles Allen Winter went for $1,680. It retained a label from the Peter Pelletier gallery in Peterborough.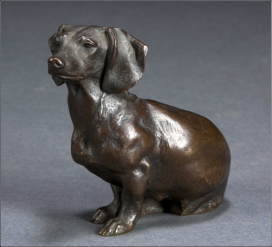 A small bronze of a dachshund by Swiss sculptor Edouard-Marcel Sandoz was signed and elicited a hardy $5,100.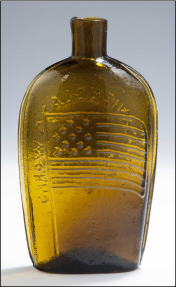 Two Chinese Shuila Hua paintings sold for $2,400. One depicted magistrates making judgments in the afterlife and the other depicted nine gods of Dong Ming Tai Ji Jiu Gong.
New Hampshire glass provided some treasures for bidders. A rare New Hampshire bottle, a Stoddard golden amber pint-size flag flask with 13 stars, was made at the New Granite Glass Works between 1855 and 1860. Its provenance included a Temple, N.H., collection and that of Richard Morven, and it realized $14,400 from a collector on the phone. Auctioneer Charlie Cobb observed that while this example is highly desirable, the half pint size is the rarest. Another Stoddard piece was a dark amber cloverleaf pickle jar from the same period, and the same Temple collection; it brought $720.
An early Nineteenth Century green chestnut free blown bottle from the Temple collection fetched $480.
New Hampshire historic documents garnered attention as the pocket diaries from 1864 through 1896 of abolitionist and suffragist Parker Pillsbury sold for $6,600. Pillsbury was a minister in Loudon, N.H., but traveled widely on behalf of his social causes. The three-volume The Life and Work of Susan B. Anthony by Ida Husted Harper, two volumes of which were inscribed to Helen Pillsbury Cogswell, daughter of Parker Pillsbury, sold for $2,280. A number of letters between Anthony and Cogswell are at Colby-Sawyer College in New London, N.H. A lot of about 18 Civil War letters of First Lieutenant Leonard Alonzo Gay, who served with the Fourth Regiment, New Hampshire Volunteers, with graphic accounts of the war brought $1,920. They came from the 40-year collection of Richard Vitagliano of Concord, N.H.
Furniture included a Baltimore area Empire sideboard with two cylindrical cabinets, a three-section mirrored backsplash and a marble mixing top with the original painted and stenciled finish that sold for $2,700. A Nineteenth Century Regency coffin-shaped cellaret with reeded columns and reeded ball feet with six compartments fetched $1,320.
All prices reported reflect the buyer's premium. For information, www.thecobbs.com or 603-924-6361.